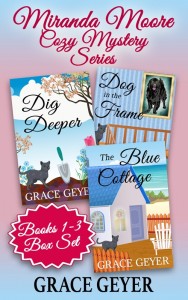 Books 1 – 3 have now been bundled together and published on Amazon Kindle from 11 September 2015.
A collection of three short ghost stories from the series. Introducing Miranda Moore, a divorced woman, who moves to the seaside town of Delphin Beach. She is assisted to solve a series of mysteries with the help of her friend Erica, her cat Raziel, and the ghost of her mother. All the stories are light mysteries set in a beach side town.
The three books are:
The Blue Cottage
Dog in the Frame
Dig Deeper
Also included under Notes from the Author are insights into the ideas and experiences behind each book.
Buy it now from Amazon Kindle -> MIRANDA MOORE COZY MYSTERY SERIES BOX SET